View Online Catalog Below!
WHY CHOOSE RAINBOW?
From Beautiful Brookings, SD to Your Backyard… Rainbow Play Systems: 28 years of quality swing sets. Thanks to families like yours, Rainbow Play Systems has grown from a small custom job shop in Minnesota to a high-tech swing set manufacturing facility. Today, there are more than one Million Rainbow Play Systems swing sets in backyards across the world.
While the scale of our swing set operation has changed over the last 30 years, our focus remains paramount – creating the safest, most durable and highest quality swings sets available in America.
SAFETY & DESIGN SPECIFICATIONS
---
See it in person before you buy
Quality and size are very difficult to judge online. Often swing sets that appear HUGE in online photographs are very small in person. The same goes for quality - what looked nice in that photo may look not so nice in person. Click to view the Comparison Shop
Never Outgrow a Rainbow
Many swing sets you see online or at bargain-priced retailers may look good, but in person, it is often much smaller than you thought and poorly built. Rainbows are built to grow with your child because you can add new components as your child grows!
Rainbow Swing Sets Feature the Finest Quality Construction. Period.
Watch out for thin boards or small boards glued or bolted together to make larger ones. They don't last! Rainbow uses massive 4"x4" and 4"x6" solid wood construction and huge carriage bolts to create swing sets that are built for kids but strong enough for mom and dad to play on for years and years to come. When in doubt check the overall weight of the swing set. We proudly show our shipping weights because Rainbows often weigh over twice as much as similar looking swing sets! Rainbow Swing Sets Feature the Finest Quality Construction. Period.
Imaginations can run wild on our beautiful, high-quality swing sets
Today, your child will go to the moon. Tomorrow, your child will go to the center ring of the circus. Last week, they were sailing the seven seas. With their imagination and Rainbow Swing Sets, there are no limits to where they can go!
GET STARTED TODAY
---
100% Cedar, beautiful quality swing sets
Rainbow Play Systems – Swing Sets: Serving New Jersey
For over three decades, parents have trusted their children's dreams to Rainbow. That's because the best wooden swing sets start here. Offering more than 100 swing set designs to choose from, all featuring the highest quality construction and a commitment to safety,
Rainbow builds swing sets that you will feel good about and that your child will love for many years to come!
GET STARTED NOW
100% Natural Big Beam Cedar Constuction
All Cedars are Conifer trees which are highly decay resistant & successfully utilized in outdoor environments for hundreds of years.
The year Rainbow established
+ dealerships around the world
+ Showrooms around the world
+ Rainbow Sets sold in the NY Metro Area
---
HOW RAINBOW SWING SETS COMPARE
At Rainbow, your families and friends safety is our #1 priority. Each of our designs goes through rigorous product testing and development before it hits your property.
Head to the comparison shop to lean more about the incredible quality that comes with the Rainbow name.
GO TO THE COMPARISON SHOP
WHAT OUR RANBOW FAMILIES ARE SAYING
USING ONLY THE FINEST MATERIALS
Rainbow Play System swing sets are an environmentally responsible choice you can feel good about having in your backyard.
We're proud to build safe, durable swing sets with strong, sturdy lumber, the World's greatest renewable resource.
Our swing sets are constructed exclusively of 100% Cedar and are covered by our industry leading warranty.
Sourced from Sustainable Forestry Initiative (SFI) approved forestlands.
100% solid Cedar (Pacific Cedar, Western Red Cedar, and Alaskan Yellow Cedar)
NO compromises in safety & quality. Our swingsets are built to last and come with Lifetime Warranty
---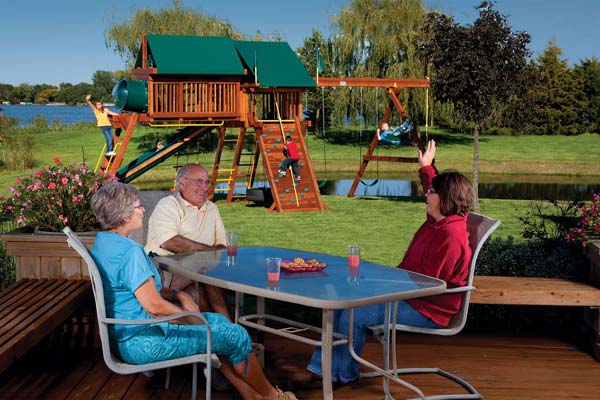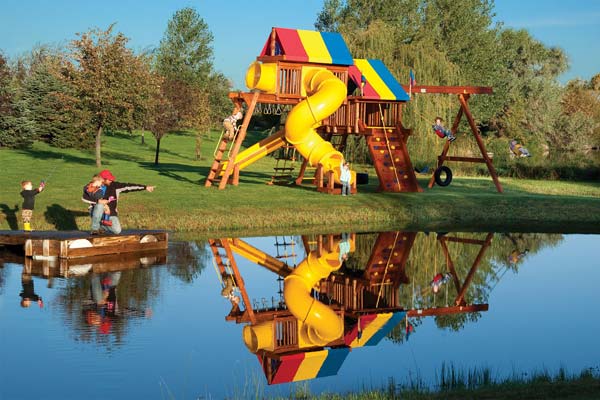 ---